***SKILLS FOR LIFE TROPHY & MEDAL***
Date: Monday 4th September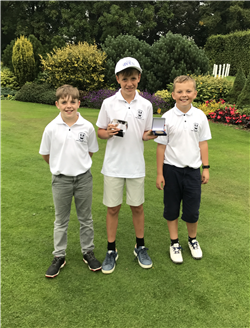 After the success that Ponteland had in the Junior Sixes Tournament on the Sunday, a presentation took place on the putting green following the Junior Members Club.

The first presentation was to award Lewis Scholes and Jamie Grant for managing to shoot 49 points at Close House. This was not only the lowest score on the day, but the lowest score achieved from anyone over the duration of the tournament.

The entire team scores deserve mentioning helping Ponteland on their way to victory:

Lewis Scholes & Jamie Grant - 49 points

Eryn Clayton & Sophie Auld - 46 points

Joe Alderson & William Alderson - 46 points


The final award was the Golf Sixes Academy Skills for Life Trophy & Medal. This honour was to be awarded to the junior who showed great sportsmanship. determination, respect, etiquette, support and encouragement.

After the sixteen weeks of the Junior Members Club followed with the Junior Sixes Tournament, it was with great pleasure to award the trophy and medal, to Joe Alderson.

Congratulations Joe and to all of the juniors at Ponteland on having such a great season!




***THE GOLF ROOTS JUNIOR GOLF SIXES ACADEMY***
Date: Sunday 3rd September 2017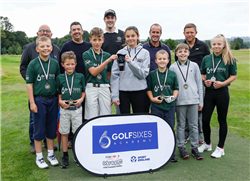 In recent weeks Golf Roots introduced a new academy for young golfer in our area. The Junior Golf Sixes Academy was created to allow young golfers to compete and develop their skills in a quality manageable environment.

Following the success of Ponteland's Junior Members Club that has been running over the last 16 weeks, Ponteland entered a squad of junior golfers to compete along side the squads of Morpeth, Bedlingtonshire and Close House.

Each club puts forward a team of six golfers compete in a two person Texas Scramble. Each clubs in the program hosts the weekly event on six shortened holes of their course, and the juniors work together to accumulate points for their team.

The final round was held at Close House on Sunday 3rd September, and Ponteland not only won the competition on the day, but won the overall Junior Golf Sixes Tournament.

A huge thanks and congratulations must go out to all of our squad of players below who have represented Ponteland with their excellent golf, etiquette and attitude:

Joe Alderson
Will Alderson
William Alderson
Sophie Auld
Daniel Clayton
Eryn Clayton
Liam Dalton
Jamie Grant
Matthew Grant
Otis Morrison
Lewis Scholes
Kate Wallace

This is an absolutely fantastic achievement from our junior golfers. The advances in their development that has taken place over just 16 weeks of the Junior Members Club is excellent to see, and they deserve to have won the title for their efforts and persistence.

We hope that this trend continues at Ponteland. The Junior Members Club is up and running again and will continue on through through the winter months and into next year. With the great support that we have from parents, volunteers and our professionals, the future looks very bright at Ponteland Golf Club.