Professionals & Lessons
***Alan Robson-Crosby***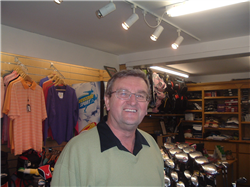 Alan has been associated with the Ponteland Golf Club for many years; first of all as a Junior and Senior member, and then as Assistant Professional. He left in 1969 to take over as Professional at Westerhope Golf Club, then returned in 1989 as Head Professional at Ponteland.
Alan is certainly well respected in the area as a golfer and a successful teaching Professional. He guarantees an excellent service to both members and non-members of the club.
The Professional Shop is well worth a visit, whether playing or passing by through Ponteland. Alan prides himself on providing only high quality golfing products and has an extensive range of golf equipment, clothing and accessories to satisfy the needs of golfers at all levels. The best prices can always be found with Alan so it should be the first place any golfer should look when looking for new equipment!
For enquiries, phone the Professional's Shop on Tel: 01661 822689. Extension 2

***Richard Robson-Crosby***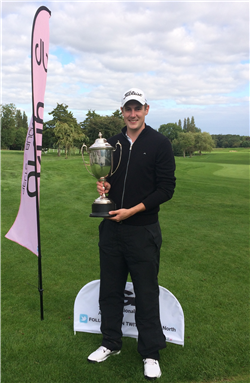 Richard, a long serving member of the club through the Junior, Men and County teams, is the club's Assistant Professional and is also a fully qualified member of the PGA. He is enjoying his role at the club and in the Professional ranks.

Whilst developing his own golf skills he has taken a highly active role at the club with teaching, administration and development. Richard is becoming increasingly busy with lessons,

Richard has also been heavily involved in the development of the Junior Squad Players. His latest project has been the new Junior Members Club which has taken place each Monday evening during the Spring and Summer. Richard provided a number of fun skills activities and games that has helped develop the skills of every junior on the programme.

This consists of 1-to-1 coaching and providing team skills tests to enhance their abilities. Promoting Open Competitions, supporting matches and helping with team building exercises in recent years has proven to be a successful combination as the Junior Team become league champions in 2015 and continue to be a strong force in the area.

Along side his role at the club Richard also competed nationally and internationally in Profesional events. Playing on NE/NW PGA and North Region PGA circuits he has had wins in Pro-Ams as well as his recent biggest win being the Harold Lees Trophy at Dore & Totley in Sheffield. Richard is gaining experience in even more skilled fields playing on the EuroPro Tour competing in events up and down the country. We wish him all the very best!


***Lessons***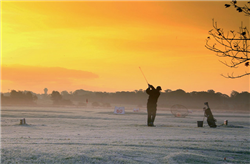 Individual Coaching
Alan Robson-Crosby (Head Professional)
40 mins = £25

Richard Robson-Crosby (PGA Professional)
40 mins = £25
Richard also offers a very popular package deal of 5 lessons for £100. This is great value for money and is perfect for players of all abilities who are looking to improve all aspects of their game.
Group Coaching
Juniors
Having played his entire Junior career at Ponteland, Richard has shown his desire to give back to the club creating sessions for Juniors of all ages and standards.
-Richard runs the Junior Members Club which now boasts a membership of 33 new junior boys and girls of all ages. The Junior Members Club is an after school club where all juniors can come down to participate in a number of fun activities and receive coaching to help enhance their game. For more information please contact the club on 01661 822689 ext. 2 if you are interested in the programme.
-As an extension from the Junior Members Club, players are then going on to represent the club in the new Junior Sixes tournaments around the North East. This consists of a 6 person squad that play two person Texas Scramble over a 6 hole course. Having only introduced the Junior Members Club this year, it's fantastic to see the competence of all those competing on new courses and with unfamiliar faces.
If you have any queries about Junior Coaching, please contact the Professional's Shop on 01661 822689 ext. 2
Ladies

The club hosted an open day on Sunday 14th May 2017 to allow ladies to come and experience the game and be introduced to the facilities at Ponteland. There has been a significantly positive response from the ladies. Follow up improver sessions were also provided by both our professionals. It has been fantastic to see such enthusiasm from the ladies and their keenness to improve.

The club now has a strong section of new lady members who play regularly. If you are interested in starting the sport or boosting your confidence, please contact the Professionals for more details on what the club has to offer.
You can contact Alan or Richard on 01661 822689 ext 2. Or email:
alanrobsoncrosby@live.co.uk
richard_rrc@hotmail.co.uk

***Deals and Prices***
"IF YOU NEED IT WE'VE GOT IT"
Your Pro's Shop is the place to shop for all your golfing needs...

*Stockists of leading golf club manufacturers (Demo clubs always available to buy)*

*Shoes in Stock*
-FootJoy
-Ecco
-Puma
-Ashworth
-Sketchers

*Clothing in Stock*
-Lyle & Scott
-Ashworth
-Galvin Green
-Adidas
-Greg Norman
-More

*Waterproofs in Stock*
-Galvin Green
-Sunderland
-Adidas

*Logo-ed Ponteland Golf Club Sweaters & Polo Shirts are AVAILABLE*

---BEST PRICES, BEST ADVICE, BEST SELECTION, BEST SERVICE---